Oriador Staff Planning Software
Oriador staff scheduling software takes the pain out of staff shift planning, employee scheduling, and staff rotations. With Oriador you can prepare and distribute the staff schedule easier and faster, saving time and money for your business and reducing stress for you.
Simple scheduling, no more spreadsheets:
Unlike traditional spreadsheet style staff scheduling software, Oriador has been developed from the ground up to provide an attractive, easy to use graphical interface for defining and maintaining schedules and work plans.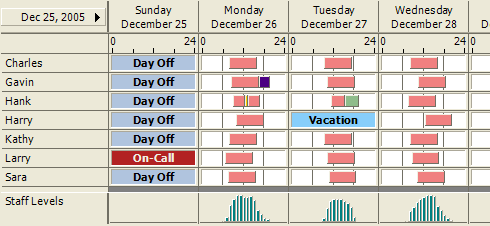 Oriador: simple, graphical staff scheduling
Flexible, powerful, easy to use: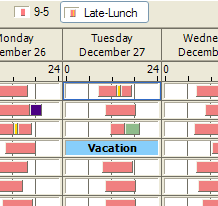 change staff shifts quickly with toolbars
Oriador staff scheduling software (Oriador Rota) takes care of your staff schedules and rosters quickly and easily, leaving you with more time and energy for other, more important tasks. We know that producing rosters and dealing with scheduling conflicts is the kind of work that often gets taken home, and we really want to help you leave it at the office.
The finished schedule can be exported to the web or a company intranet, while payroll or timesheet data can be exported to Microsoft Excel for further analysis.