Staff Scheduling Help
Defining Statuses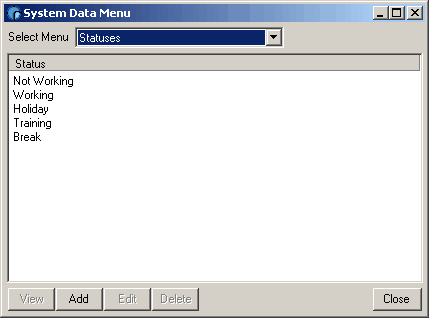 Statuses are used within the system to control the display and processing of a staff member's rota.
Each unit of time specified in a rota must be assigned a Status, which as well as determining the colour of the time unit on the screen, will determine whether the staff member is available for work, whether they are paid for the time, and can also indicate that they will be given holiday Pay.
Also, if no units of time are allocated to a particular day in a rota, a Status will be assigned to the whole day. Once again, this indicates whether the staff member will be paid, and can indicate Holiday Pay. Only Statuses specifically designated as suitable for all day can be applied to the day as a whole. Statuses suitable for all day use cannot be "Working", as the software could not determine the working hours, and therefore could not accurately display the roles screen.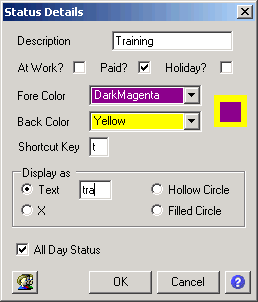 When defining a Status, they must be given a name (or Description), and the At Work, Paid and Holiday check boxes must be set to the appropriate values. The All Day Status is used to make a status suitable for allocation to the whole day. The rest of the fields control the display of the status.
Click the staff affected preview button

to preview the staff that will be affected by your changes.