Staff Scheduling Help
Adding Staff to a Rota - Advanced Options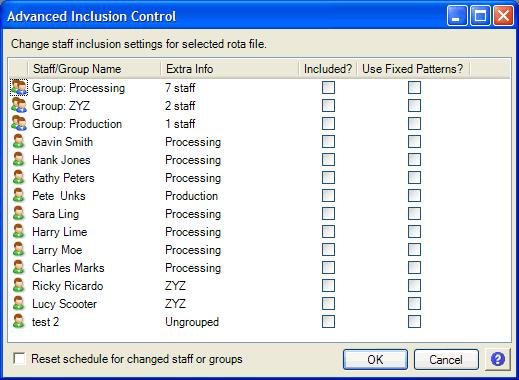 If you click the Advanced Options link on the Add Staff To Rota window, you will see the window above.
Here you have a list of all Staff Groups and Staff, along with 2 check boxes for each. All you have to do is change the "Included?" and "Use Fixed Patterns?" checkboxes to the desired values for each. When you click OK, the rota will be updated, and staff or groups will be added or removed as necessary.
The Reset Schedule check box controls whether or not the rota details in the current file will be affected. If you change the value of a member of staff's Fixed Patterns option, the rota will not automatically change to reflect this... but any periods of the rota that you manually reset will take account of the changes. Checking the Reset Schedule box will update the staff members details in the rota, but you will lose any changes you have made to their schedule.